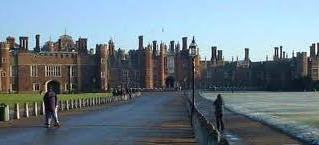 London Green Belt Way
Photos of Stage 15
Queen Elizabeth II Bridge Viewpoint to Lullingstone Park (9.9 miles)
Start at the Queen Elizabeth II Bridge Viewpoint at Stone. The route passes through the outskirts of Dartford to join the Darent Valley Path south, through the villages of Darenth, Farningham and Eynsford. Then past the Roman Villa remains and the castle at Lullingstone, to finish near the Visitorís Centre at Lullingstone Park. With some of the photos below you can click on them to view a larger image.
The Beacon at the Queen Elizabeth II Bridge Viewpoint.
The Queen Elizabeth II Bridge at zoom - click for a larger image.
The path through Hesketh Park, Dartford.
Narrow path through Dartford.
The path to Brooklands Lakes and another going between lakes.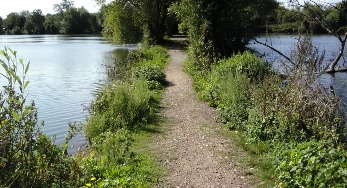 The Darent Valley Path along the edge of Brooklands Lakes.
Remains of an old mill, on the Darent River, next to the path.
Horses in a field next to the Darent Valley Path.

Under the A2.
Footbridge near Hawley Mill, plus Darent Valley Path goes under M25.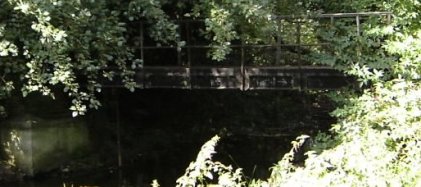 Graffiti on the M25 pillar.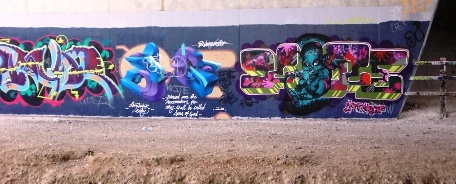 The Chequers pub at Darenth.
St Margarets Church on Darenth Hill.
Narrow path and steps after Darenth Hill.
Darent Valley Path towards South Darenth. The tall chimney is that of South Darenth Mill.
Viaduct and The Bridges Pub at South Darenth.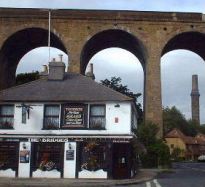 Cattle Screen across the River Darenth at Farningham.
The Old Manor House at Farningham - once home to Captain Bligh.
The Old Mill at Farningham.
Family Butchers at Farningham,
Sparepenny Lane.
Monument to Flight Lieutenant James A. Paterson - click for a larger image.
Eynsford Castle from Sparepenny Lane.
No chance of getting lost here?
Eynsford Ford, Church of St Martin of Tours and The Watermark Restaurant.
Eynsford Viaduct and a jogger on Lullingstone Lane.
Lullingstone Roman Villa - click on the sign to read.
Flag flying over Lullingstone Castle.
Lullingstone Castle.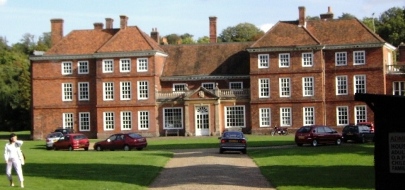 Lullingstone Church.
River Darent Path past Lullingstone Castle.
Carved Bench next to the river in Lullingstone Park.
Carved Tree & Fish next to river.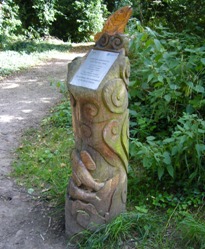 The Darent Valley Path near to the finish of the Stage.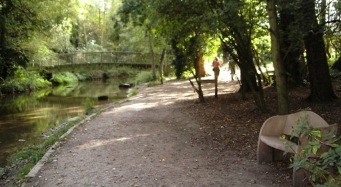 Lullingstone Park Information Board.
Lullingstone Visitors Centre next to the End of the Stage.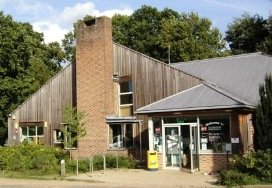 Copyright @ Sean.Davis 2010 All rights reserved