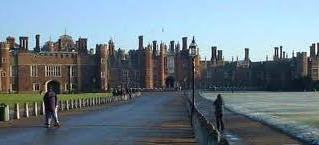 London Green Belt Way
Photos of Stage 4
Boveney to Great Kingshill (12.25 miles)
The stage starts at Little Marlow and follows footpaths and country lanes through Wilton Farm, Bloom Wood, Handy Cross, Booker Common, High Barbers Wood, West Wycombe, Downley and Hughenden to the finish at Great Kingshill. There are many tough climbs through the Chiltern Hills. With some of the photos below you can click on them to view a larger image.
Conservations Walks above Little Marlow, through Wilton Farm & Bloom Wood/
The view back on the climb up from Wilton Farm.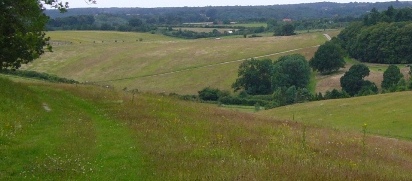 Metal stile on Chilterns above Little Marlow and track into Bloom Wood.
Showing the way through Bloom Wood.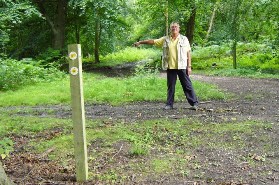 Path down to then under the M40 at Handy Cross.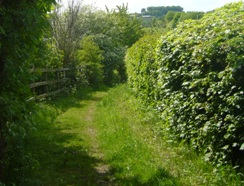 Path parallel to M40 near High Wycombe.
Live & Let Live pub and the path into the woods at Booker Common.
The descent from Booker Common is soon followed by the steep climb up to High Barbers Woods.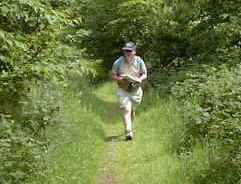 Looking down into Adams Park on climb to Druids Hut.
West Wycombe House and the long lane down to the village.
The grounds of West Wycombe House.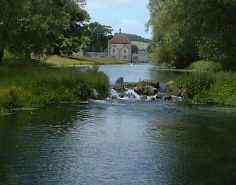 Entrance to the Hell-Fire Caves at West Wycombe.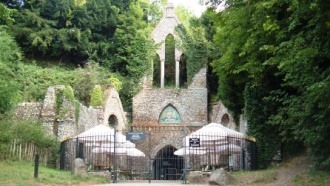 Old Water Pump at West Wycombe.
Looking back to Church & Mausoleum on West Wycombe Hill.
Path towards Hughenden Manor and the steep climb before D'Israeli's home.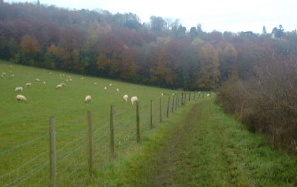 Hughenden Manor.
Between walls at Hughenden Manor.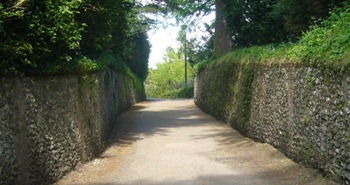 Hughenden Church and Valley on the descent from the Manor.

D'Israeli's Grave.
A cow takes the plunge in the Hughenden Stream while Superman takes the applause on the lane.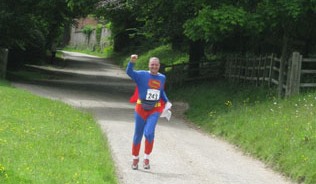 Public footpath signpost to Hughenden Valley.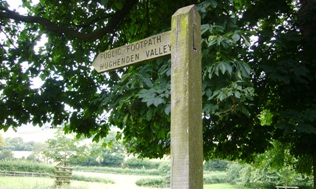 Gates with a gap in the Hughenden Valley.
The path running parallel to the Hughenden Stream.
Steps down to the road at Hughenden Valley.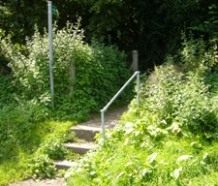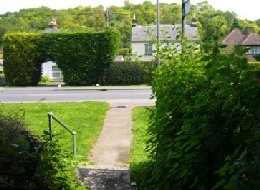 Boss Lane House where Churchill held some cabinet meeting during WW2 and its neighbour.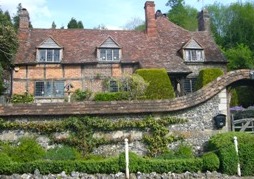 A decorative garden shed on Boss Lane.
The climb up Boss Lane towards Great Kingshill.
Pipers Corner School on the way into Great Kingshill.
Great Kingshill at the end of stage 4.
Copyright @ Sean.Davis 2010 All rights reserved