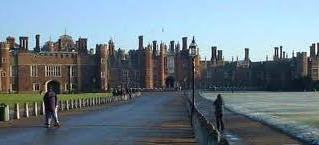 London Green Belt Way
Photos of Stage 5
West Wycombe to Old Amersham (12.25 miles)
The stage starts at Pedestal Roundabout just east of West Wycombe Village. Tough from the start. we climb up to Downley, then drop down through the woods before climbing steeply to Hughenden Manor (National Trust). Immediately, descend again to follows Hughenden Stream, then climb up Boss Lane to Great Kingshill and rolling through Prestwood to join the South Bucks Way at Little Kingshill and follow it through Little Missenden. Then along River Misbourne through the Shardeloes Estate, before diverting to Old Amersham.
Looking back to Church & Mausoleum on West Wycombe Hill.
Path towards Hughenden Manor and the steep climb before D'Israeli's home.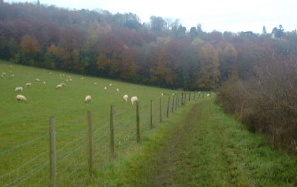 Hughenden Manor.
Between walls at Hughenden Manor.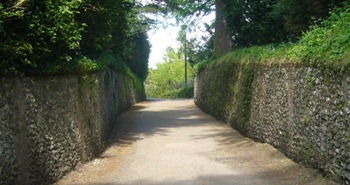 Hughenden Church and Valley on the descent from the Manor.

D'Israeli's Grave.
A cow takes the plunge in the Hughenden Stream while Superman takes the applause on the lane.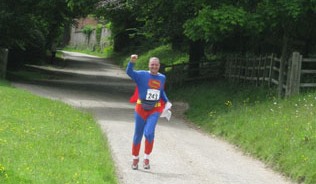 Public footpath signpost to Hughenden Valley.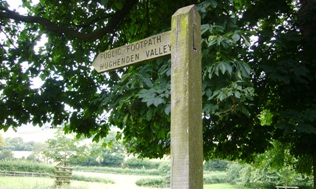 Gates with a gap in the Hughenden Valley.
The path running parallel to the Hughenden Stream.
Steps down to the road at Hughenden Valley.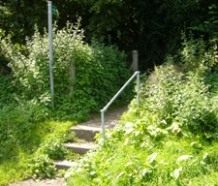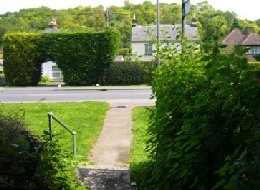 Boss Lane House where Churchill held some cabinet meetings during WW2 and its neighbour.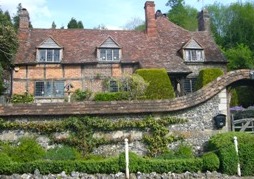 A decorative garden shed on Boss Lane.
The climb up Boss Lane towards Great Kingshill.
Pipers Corner School on Boss Lane, Great Kingshill.
Old French Chateau at Little Kingshill
The South Bucks Way.
Across Little Boys Heat towards Little Missenden.

Bridleway before Little Missinden.

The Jacobean Manor House, Little Missenden Village.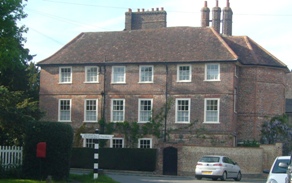 Bearded Man shows the way through Little Missenden.
The Parish Church of St John the Baptist & Little Missenden House.
Shardeloes House from Misbourne Valley.
Amersham Market Hall, Lock-up, Pump and Domesday Plaque.
St Marys Church, Amersham
Copyright @ Sean.Davis 1995 - 2020 All rights reserved