London Green Belt Way
Photos of Stage 7
St Albans to Letty Green (11.95 miles)
The stage starts at the entrance to Westminster Lodge Leisure, Holywell Hill, St Albans and finishes at the old Cole Green Railway Station at Letty Green. The route is mainly flat following the River Ver path, the Alban Way to and through Hatfield, then past Mill Green Mill, through Commons Wood Nature Reserve at Welwyn and finally along the Cole Green Way to the finish. With some of the photos below you can click on them to view a larger image.
St Albans Abbey.
Sopwell Nunnery, St Albans.
A Jogger on the Alban Way.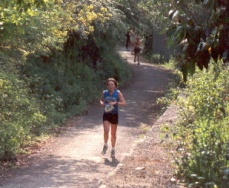 The Old Drinking Trough at Mill Green.
Mill Green Museum & Mill
The Commons Information Board - click for larger image.
A gate without a fence in Commons Wood.
Memorial to Jack Lonergan.
Cole Green Way goes under A414.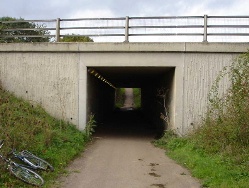 Along the Cole Green Way to the Finish.
Bridge under the Cole Green Way at Letty & Lane to Start of Stage 8.
Copyright @ Sean.Davis 2010 All rights reserved