Below are some photos of past GBRs
Photo credit Sean Davis, Steve Rowland and Martin Wood.
Start of leg 15
Who said it didn't hurt Don Esselmont of Epsom Mike Peters of the Shandies
when you win? and Ewell Harriers wining leg 9 by 2 minutes.
2000 Double stage winner Dave Benton Sue Ashley
2000 - Double stage winners Linda Cartwright and Mike Lane
Hugh Jones sets the record on Stage 1 in 1997.
The Start 1999. Chris Owens does his best to get the Ranelagh Old Dogs disqualified for running ahead of the marshal.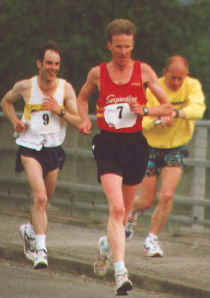 Lynda Howe Ian Johnson (Stragglers) and Robin Stragglers Kindersley (Serpentine), Leg 5, 1996 Ian wins by 1 second, and repeats this by the same margin on Leg 18.
Lynda dancing at the start in 1996.
Start of Leg 6 in 1999
The first GBR - the start.
The Finish of First GBR, Weston Green.
Jezebel, 1916, Dennis Fire Engine, Royal College of Science Motorised Mascot, my old college, at the start in 1999.
David Wiltshire, MP with Bob Waters and Lynda at the start in 1996.
Sean presents a cheque to mencap in 1999