GBR2000
Here's some of the action from GBR2000.
Some photos taken by Martin Wood. If anyone else has images of the race then we'd be pleased to receive them.
Start of leg 15
Start of Leg 10
The great Don Anderson on route to Supervet Brian Wiles - didn't get Anne Leigh of Metro's
leg 2 victory - his 4th GBR leg win. a win in 2000 but put in 2 strong runs finishes leg 20.
Declan Flynn - Winner of Stage 16 Paul McTigue - Won Stage 7 (new record) & stage 14
Who said it didn't hurt Don Esselmont of Epsom Mike Peters of the Shandies
when you win? and Ewell Harriers wining leg 9 by 2 minutes.
Previous GBR's
From left to right - Sean Davis setting the record for Leg 4 in 1996 (which still stands today), Derek Summers of 26.2 in 1999 and Simon Brazil of Stragglers on Leg 17 in 1996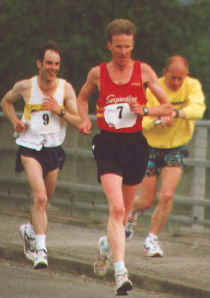 Lynda Howe Ian Johnson (Stragglers) and Robin Chairmum Stragglers Kindersley (Serpentine), Leg 5, 1996 Ian wins by 1 second, and repeats this by the same margin on Leg 18.