The Thames Path between Shepperton and Chertsey Bridge
The Thames Court Hotel on the Thames at Shepperton Lock
Statue of Blanche Heriot on one side of Chertsey Bridge and House Painting on other side.
Thames Towpath sign at Chertsey Bridge
Chertsey Bridge at 9 miles and the M3 Bridge over the Thames, shown below, at 9.25 miles.
Camping, picnic, B-B-Q, picnic, swimming, car park and playground area at Laleham Reach
Leg 1 - follows along the Thames to Laleham. Seen here in January 2001 in flood.
Laleham is a sleepy riverside village and has much history linked to it.
Matthew Arnold's grave in Laleham churchyard.
The River Thames from the towpath near Penton Hook Lock
Railway bridge over the Thames just before Staines
The Staines Town Hall (now a pub) backs onto the Thames
On the wall of Staines Town Hall is a plaque remembering The Trafalgar Way and the announcement of Lord Nelson's death. Click on the photo for a larger image so as to read the inscription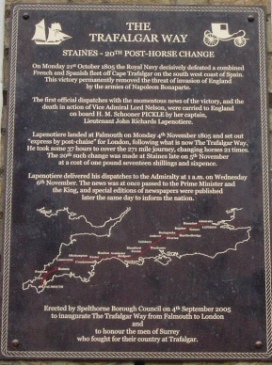 A water sculpture next to the river and the Town Hall
Cross the footbridge over the River Colne (where it enters the Thames) and onto the finish, just before Staines Bridge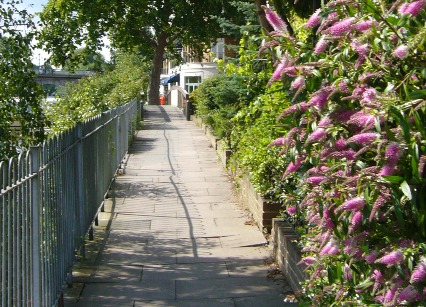 Sue Long of Stragglers with the local Town Crier at the finish in 2005, next to Staines Bridge.