[ Home ]
Photos - Leg 9
Starts from Dobbs Weir on The River Lea Navigation
The River Lea Towpath to Waltham Abbey.
The blue line (near the top of the photo) over the River Lea Navigation at 5.8 miles is the M25 bridge.
A houseboat owner keeps his hedge in trim.
Rifles Pub, next to Enfield Lock at 7.1 miles.
Swan & Pike Pool sign at 7.25 miles. As you can see from the sign, the route has now joined the London Loop.
An old footbridge on the London loop at 7.6 miles.
Lee Valley Regional Park Sign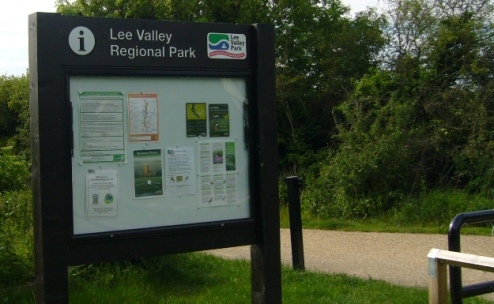 High Beach Church, Epping Forest. Lord Tennyson used to write in the churchyard.
A painting of the door of a Crafts Studio at High Beach.
Kings Oak, High Beach Green.
The finish on High Beech Green