[ Home ]
Photos - Leg 21
Leg 21 - starts on the Green at Ripley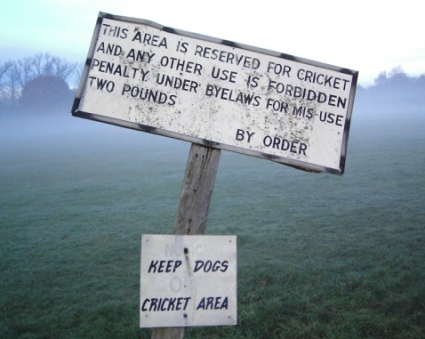 Some places just off the route
Newark Mill was burnt down many years ago, but a lot of the surroundings and history still remains.
At Newark we join the Wey Navigation, the oldest of all canals. Now owned and managed by the National Trust, the river splits here. The towpath and Navigation is well looked after and popular for fishing and with ramblers and boats.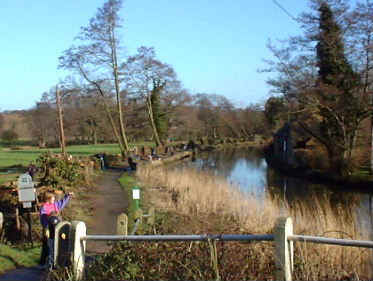 The remains of the Old Newark Priory is a short stroll just along the Wey, a popular site for Turner to practice his artwork. It still looks now, as it was in his drawings.
An afternoon stroll up to Newark Lock, pleasant and peaceful.
At 0.6 miles we cross the weir to Walsham Lock. On the left, only 20 yards through the trees is the 16th tee at Pyrford. The course has 24 acres of water, but when I took this picture, all the fields to the right of the weir, for as far as you could see, were under water. The great floods of 2000.
A mile along the towpath we reach Pyrford Lock. On one corner stands the Anchor Public House. On the other three stand golf courses, Traditions, Pyrford and the Wisley, the latter the most expensive in the UK. Just a short walk along the lane is the gardens of the Royal Horticultural Society at Wisley.
1.5 miles, the Wey Navigation, beside the Anchor Public House at Pyrford Lock. This is also the junction of three golf courses, Pyrford, The Wisley and Traditions.
Heidi Taylor (West 4) before Pyrford Lock on the Wey Navigation.
The start of stage 19 at Pyrford Lock in 1997
Walking on water, at Old Parvis Road at 3.3 miles.
Under the railway at 3.9 miles.
The signpost for the Basingstoke Canal, and below that the footbridge over the Wey to the Basingstoke Canal.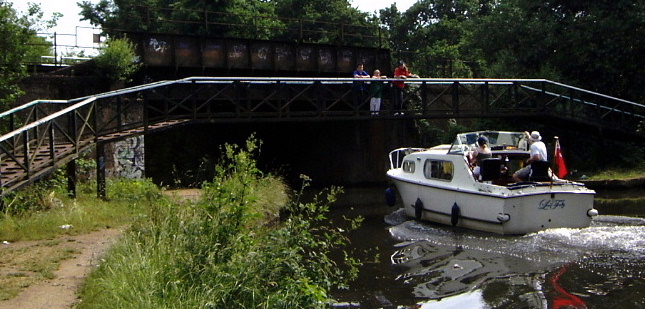 Under the M25 at 4 miles. The structure above you head feels vast.
Past New Haw Lock at 4.5 miles.
Approaching Cox's Mill & Pond
Cox's Mill Weir, Addlestone at 5.3 miles.
Taking the plunge on a hot Summer's day.
Black Boy Bridge, and the view from, at 5.5 miles.
Weybridge Lock at 5.8 miles.
The "Weybridge" at 5.9 miles.
Some boathouses on the Wey Navigation at Weybridge.
E.M.Forster, author's ("A Room With a View", "A Passage to India" and "Howard's End") house, and the sign at the York Column. Both on Monument Green at Weybridge.
Thames Lock and Visitor's Centre, on the River Wey, at 5 miles.
The view from the footbridge over Thames Lock.
The Old Crown, Weybridge, at 6.5 miles.
The Thames Ferry at 6.7 miles. Across the river is Shepperton Lock on stage one.
Richard D'Oyly Carte's old house on his island at Weybridge.
The last mile and a half is along the Desborough Cut.
To finish at Walton Bridge, on the Thames.
Some photos around the finish area at Walton Bridge